Archive for November 5th, 2011
Well Fall has fell in Possum Kingdom. It has wound up South Greenville Sports Fall Softball and it was a fun season with a couple of great coaches and I am so proud of Abigail, she had some great hits this year with two home runs. Justin and his mighty Yellow Jackets have finished their season in Aiken County and finished 3rd in the county. I am so proud of what he has accomplished and what his team has accomplished.
We had our Fall festival at church on Monday and I did not know that many people could fit through the gates to get in Possum Kingdom, we had a great time. I ran the hay ride, a trailer behind my Gator and it stayed busy until we closed the ride for the Trunk or Treat. When they turned all those rug rats alose for the candy well I will say that I am glad I was behind my Gator.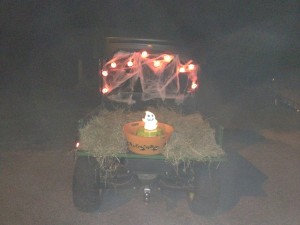 Chief and I are looking forward to some future therapy visits as we will be on one Monday at Carolina Behavioral Health and they really enjoys us coming to visit with them.
Well I better get in the bed so I will be ready for Sunday School at 9:30 in the morning. I hope you enjoy your day of worship with God almighty. I look forward to the next time we meet.
God Bless You,
Pel