Archive for September 3rd, 2012
Hello Family & Friends,
Well I sure hope your Labor Day celebrations went according to plans, ours sure did. On Friday as soon as Abigail got home from school, we headed camping. Justin had not been able to go with us camping this year so we went to Hamilton Branch in Plumb Branch, SC which is on Lake Thurmond but for you older folks it is better know as Clark Hill. Claire took Friday off because Monday is such a busy time for her patients just getting over the weekend, remember she is a nurse for Hospice Of The Upstate Home Health Care. Meleeda, my sister decided she would just leave school, Laurens Middle and meet us there. Anthony came home and hooked up and then waited on us, well Abigail, I hope I survive these teenage years. We arrived and got set up before dark, Justin was able to come down and spend the evening with us. After the reservations were made he found out that the North Augusta Varsity game was on Saturday and in Atlanta, so there went his Saturday at the lake. They were playing Valdosta and unfortunately North Augusta fell just a little short after playing an awesome game.
Justin did tell us about a restaurant in Sweet Water, SC that he and Holly had eaten at and recommended it to us. Saturday afternoon off we go to Old McDonald Fish Camp and boy let me tell you did we do some fine eating and then a lot of belly rubbing on our ride back to camp.
We then spent Sunday just a little bit lazy and helping Claire pack up and sending her off to home to get ready for work on Monday, Labor Day. Abigail, Meleeda, Anthony and my self went of boat riding, of course we had a hard time deciding to ride in the boat or renting 4-wheelers, the lake was over 11′6″ down. We then finished the evening off watching Big Brother outside, Abigail was quite watching something inside. If you were watching on Direct TV you know the last 10 minutes were not on due to technically difficulties. We got up Monday morning, packed up and arrived back in Possum Kingdom early afternoon, just before the rain, thank you God for the rain.
Happy Labor Day,
God Bless You,
Pel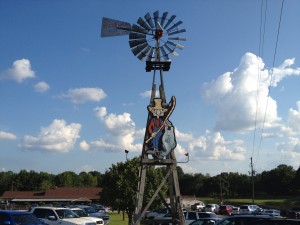 Good Ole Fish Camp Eating with grits on the side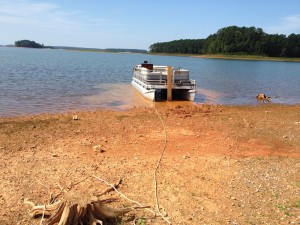 Pontoon-yacht Stuck after water dropped over night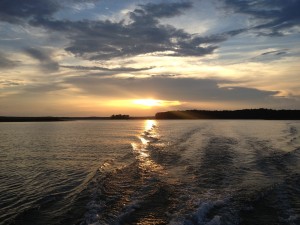 What A Sun Set, How Big Is Our God!