Man's final gift saved others' lives
Organ recipient: Bissell 'is still alive through us'
By Ron Menchaca - contact Ron at http://www.charleston.net/staff/ron_menchaca/contact/
The Post and Courier
Monday, January 26, 2009
Pelham Medlock Jr. stood solemnly near the City Market. He bowed his head and quietly prayed as carriage horses clopped past and tourists bustled through the heart of Charleston's visitor hub.
He stared at the pavement near the corner of North Market and Anson streets earlier this month, whispering prayerful thanks to a man he never knew.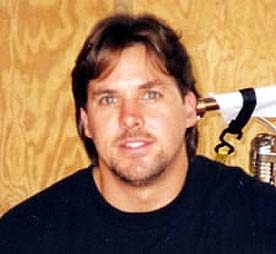 Police still do not know the identity of the man Shawn Bissell struggled with before he died two years ago.
Shawn Bissell's life ended at this spot two years ago in what police consider a freak accident. It left him unconscious and brain-dead but preserved his healthy organs.
Although questions still linger in Bissell's death — his fatal fall came, in part, at the hands of an unidentified man police couldn't locate — his family's decision to donate his organs gave Medlock and others new lives.
Medlock was dying from a non-alcohol-related form of cirrhosis when the phone in his Upstate home rang Jan. 28, 2007. It was his wife's birthday, and she was opening presents. But the news on the other end of the line announced a gift for him: a new liver.
"I tell myself that this was God's will," said Medlock, a former arson investigator in Anderson County. "Shawn had done what God sent him here to do, and for whatever reason, my time is not yet done."
Medlock, who has struck up an e-mail connection with Bissell's sister, Rita Batten, still travels to Charleston regularly for check-ups. After his appointments at the Medical University of South Carolina, where he received the transplant, he heads for the City Market, to pray. "I often wonder what people around me think. I guess I don't care. It's the part of the trip I look forward to," he said.
Saving others

Barbara Melvin's kidney was failing from a disorder, and the Fayetteville, N.C., woman's wait for a donor was estimated at five years. She was steeling herself to begin grueling dialysis treatments when the call came out of the blue. It was Jerry and Rita Batten calling, a couple she'd known for years through her work as director of the North Carolina Indian Housing Authority.
To offer tips
If you have any information concerning the Jan. 27, 2007, scuffle in the Charleston City Market that led to the death of Shawn Bissell, call Charleston police at 843-577-7434 or Crime Stoppers at 843-554-1111.
Batten's younger brother, Bissell, had died in a fall in Charleston. The Battens knew Melvin was very sick. They wanted her to have one of Shawn's kidneys.
Melvin thinks that accepting the gift came with a sacred duty to share her life with Bissell's family. "I feel close to him even though I never knew him. He is still alive through us," she said.
An unidentified man in his 50s received Bissell's heart. Another person received his other kidney.
Seeing the joy that Shawn Bissell's final gift brought to others helps Batten deal with the loss. She helped raise him, coddled him to sleep when he was colicky.
"It helped me tremendously with the pain of losing him. Now I have people I can talk to who are so exceedingly grateful," she said.
But she still struggles to understand Bissell's death.
Lingering questions
It was just after 2 a.m. Jan. 27, 2007. The downtown bars had just closed and people poured onto the sidewalks.
Bissell and a friend were leaving a bar near the City Market when they heard a man and woman arguing nearby. Bissell tried to intervene on the woman's behalf. The other man told Bissell to mind his own business. Both men raised their fists and clashed near the sidewalk. Bissell stumbled backward in the scuffle. His head struck the pavement. He lay motionless as onlookers gathered.
The Charleston police officer who took the call left the scene 21 minutes later. He took only one witness statement, never located the mystery man in the scuffle and turned away other witnesses who offered their own accounts.
In February 2007, after The Post and Courier inquired about the department's handling of the case and located new witnesses, investigators renewed efforts to find the mystery man and any witnesses they might have overlooked. But those efforts did not turn up any new details, and the Solicitor's Office later decided no crime had been committed.
Police said this week that they still don't know the identity of the man Bissell struggled with or the woman Bissell tried to protect. Bissell's case is closed pending any new information or witnesses, police public information officer Charles Francis said.
Bissell's childhood friend, David Alexander, always figured someone would come forward. Maybe his friend's death still would be ruled an accident, but knowing more details might bring Bissell's family closure.
"I thought that the girl would come forward. Shawn was trying to defend her. He basically died for her. How do you go through life knowing somebody gave their life for you?" Alexander said.
Medlock and Melvin know exactly what that's like.
Reach Ron Menchaca at rmenchaca@postandcourier.com or 843-937-5724
Read the Story on-line at: Man's final gift saved others' lives (Monday, January 26, 2009)
My thanks to Ron for his interest in the story and even 2 years later still asking questions and seeking the truth.
May God Bless All of You,
Pelham,
Pel,
Lightning
This entry was posted on Thursday, January 29th, 2009 at 4:07 pm and is filed under
Uncategorized
. You can follow any responses to this entry through the
RSS 2.0
feed. You can
leave a response
, or
trackback
from your own site.